A while back, I ordered from Sephora online and was given an option to order this Amore Pacific sample of Treatment Enzyme Peel for $5. Being the exfoliant lover I am, of course I clicked "add to bag." And I'm very glad I did.
Here's how I use it:
– I use this in the shower but I keep it on a shelf outside of my shower (see the very top of this page). It's a dry powder so it's imperative to keep humidity out of the bottle until you're ready to use it.
– After washing my face, I pour a small pile (appx 1/8 tsp) into my hand and massage it with water until it starts to foam up and isn't sticky.
– I massage it into my skin for just over a minute, being sure to focus on the parts of my face that get clogged.
The upsides:
The Ingredients
– While I don't love that it has artificial color, fragrance and parabens, the active ingredients are all botanical or food based, which is what drew me to it in the first place.

Effectiveness
– My skin feels wicked smooth after using this. The smooth feeling lasts a day or so, which makes sense since it can be used daily. For more sensitive skin, I'd say try it a few times a week at first. For oilier skin, daily use will help keep the skin clean and clear. People with dry skin should always be sure to use an appropriately rich moisturizer after any exfoliation treatment and be careful not to overdo the exfoliation – start with twice a week.
– My favorite part about this product's effectiveness is that it really reduces my blackheads when I use it regularly. It's one of the few exfoliants that I've come across that's effective in that way.
– Here's a pic of how foamy it gets. I don't love foaming agents but in this case, it helps with the effectiveness as it gives you something to massage into your skin: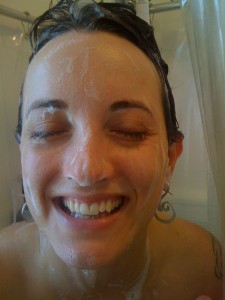 The not-so-upsides:
The Ingredients
– As I mentioned above, I'm not loving the color, fragrance and parabens.
– When a whiteish product has color listed on the ingredients list, that usually means that it was an unappealing color before they added the artificial colorant. The colorants are usually nothing to worry about but I just find they take away from the "natural" title.
– Fragrance. You know I can't stand artificial fragrance. This one is strong and I don't care for it but I'm glad it doesn't linger.
– Parabens preserve the product by eliminating mold & bacteria and many people want to avoid them because of their possible link to certain cancers. Here's a quote from this article about the topic:
We can say parabens…
are contained in some breast cancer tissue
are absorbed by the body
appear to enter tissue via the skin, rather than ingestion
promote estrogen-like activity in lab animals

We can not say…
parabens cause cancer
deodorants or antiperspirants cause cancer
parabens inhabit the body only in breast tissue

The Price Point
– At $60 for 2.5 oz at Sephora, it's an expensive product. I've not used the full size bottle yet but I hear it's got a measured dose dispenser so this may help with the humidity issue I mentioned above as well as helping it last longer because you won't over use the product. If it lasts 6 months, then I'd say it's worth the expense.
Overall, I like this product. I hope to find a similar one that has no parabens or fragrance because I'd LOVE that. If you try it, let me know what you think.