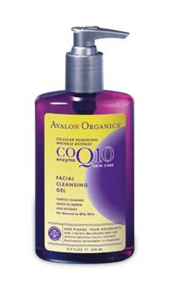 I love Avalon's other cleanser, so I thought I'd have an easy go of it with this one but I really didn't care for it.
Here's how I use it:
– Like any other cleanser. Wet face, 1/2 pump, massage thoroughly into skin, rinse. Easy.
The upsides:
– It's affordable. (less than $15 on their website or at your local health food store or apothecary)
– It's gentle. (Chamomile is listed in the ingredients – that's soothing for most skin)
– It comes in a pump and measured doses help maintain the veracity of the above two points.
The not-so-upsides:
– The scent is not my favorite. It's not disagreeable, but I don't love it as much as their other gel cleanser.
– They make a big deal about COQ10 being the active ingredient but, really, you're massaging this product into your skin and then rinsing it off. That doesn't really get that much of the ingredient into your skin so it's a little bit of an over-emphasis.
On their website, they call it their "Signature ingredient"
The CoQ10 enzyme is an essential antioxidant that is the energy source for new cells and smooth, firm skin. It is found in every living cell of your body and is an important factor in maintaining youthful, healthy skin.
Perhaps if you used this cleanser along with their CoQ10 Wrinkle Defense Serum, maybe it would support what the serum is doing but I don't think it's necessary.
Overall, I'm ALWAYS recommending that my clients get one of the Avalon Organics cleansers because of their availability, their
SAFE, NATURAL, EFFECTIVE, PRO-ORGANIC BODYCARE WITHOUT SYNTHETIC FRAGRANCES, PHTHALATES, PARABENS OR SULFATES
(to quote their site)
and their price point. You could choose any one of them and just see how it responds to your skin. Sensitive & dry? Go for Lavender Milk. Combination? Try the Vitamin C Gel. Dehydrated and wrinkling? Try their new Lift creamy exfoliating cleanser (tho, I've not tried that one yet) Want to fight against wrinkles and feed your skin some antioxidants? Try one of the CoEQ10 cleansers.