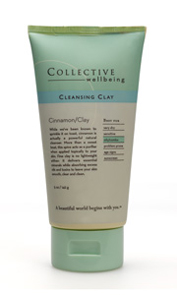 I got Collective Wellbeing's Cinnamon Purifying Clay Cleanser because I wanted to try something new and found the title and description quite intriguing. The very first time I used it, however, I was disappointed. This is less a cleanser and more a masque.
I wanted a cleanser.
Once I got over that disappointment, I set about finding it's strong suits and discovered that it's excellent as a masque.

Here's how I use it:
At night I wash my face with whatever cleanser I'm testing at the time and then apply this as a masque for a few minutes, until a thin coat is dry. After a few days of doing this, my skin is super soft and clear.


The upsides:
This product specifically:
– Lots of natural ingredients and no parabens
– Feels tingly when used as a masque
– Works well to purify the skin over time without stripping it – but only when used as a masque
The company:
– Collective Wellbeing [used to] donate(s) a portion of the price you pay to charity and you can "vote" for where they should donate, tho, the list of options is short. [If they still do that, it's not on the site anymore so the voting piece is definitely gone]
– You can order products directly from their website
– They have a great "try it free" option for their acne line. I like this because acne is a tough issue for those dealing with it and most people have to try different products for a while until they find something that works for them. Getting to try the products for free is a great way to take some of the pressure off. I haven't heard from anyone that's tried it yet, but when I do, I'll post more info. [I'm not sure they still offer this program anymore either…]

The not so upsides:
– Its not a masque, it's a cleanser – I have oily combination skin and as a cleanser, it's not very effective at getting my skin clean.
– It's got just a little bit of corn meal in it – not enough to make it useful either. It's just enough to be kind of annoying.
I'm not sure to whom I'd recommend this product and I don't think I'll purchase it again – tho, I will finish the tube I've got by using it as a masque when I'm feeling a little dull.