I'm going to switch things up a bit today and veer from the usual format because I'd like to tell you a story.
It was Easter. We decided to have a party. Of course, it had to be a themed party. I chose Zombie Bunny as the theme.
I offered to my guests that I would help everyone get zombiefied using my selection of professional makeup tools/items from Kryolan, while we ate baked goods and drank cocktails.
A friend decided to come over with his makeup already done and brought these little "Makeup Crayons" with him hoping I'd clean up the details.
My water color makeup didn't work out all that well over the grease based crayons, but I did my best. I like the way his cut turned out.


Here are some of the other cuts, bruises and zombies I did that day (click on one to see it big and bold) with a combination of Kryolan's Aqua Color and Supracolor Bruise Kit: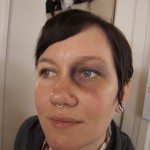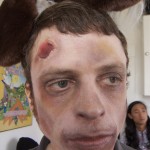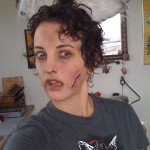 At the end of the party, we had one guest left, the inimitable Camper English from Alcademics who was our mixologist for the day (we had a series of Tiki drinks, including, of course, the Zombie!)
I asked if I could paint an Easter egg on his face with my trusty Aqua Colors and he, ever the Club Kid, happily complied.
Yes, it's a little sloppy but what do you expect at the end of a long day of being and drinking Zombies?
Flash forward to today. We in San Francisco are anxiously awaiting Judge Walker's lifting of the stay on his Prop 8 overturn. Soon we will have a window of 6 – 48 hours where same sex marriages can take place at city hall. In celebration, I decided to paint a heart on my face before going out with some friends.
Now, the point of this post. A comparison of said "Makeup Crayons" to Kyrolan's Aqua Color.
Here are the two on my face, the Kryolan on the viewer's right.

It's kind of a no brainer, huh?
Kryolan wins by a landslide for intensity of color!
I thought of showing you the smear difference and other comparison-like things but, why bother.
The ONLY thing that the crayons have going for them is price and you definitely get what you pay for.
The ONLY thing that I DON'T like about the Kryolan products is almost all of the ingredients in each product. Yes, it's true. I'm flexible – especially when it comes to makeup because you can always put your high quality primer and foundation on before you put the makeup on top, then the ingredients won't be as harmful to your skin.