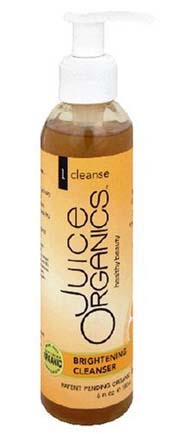 I've been curious about Juice Beauty for some time now. They are local to me, use a blend of fruit juice as the liquid component of all of their products and the names and descriptions of their products are really intriguing to me. Times being what they are, I've not ventured very far into their product list.
Then I found Juice Organics Brightening Cleanser at Target and I was so excited.
Here's how I use it:
The best results come from applying it to dry skin and massaging it in. I add a little water, massage till sticky, add more water, massage again and then rinse. My skin feels silky smooth and very clean without feeling tight.

The upsides:
– It's only about $12 at Target or you can buy it right from their website.
– It smells pleasant because of essential oils.
– It's organic!
– Here's an excerpt from the about us page on their website
that makes me extra excited that this product works so well for me:
All Juice Organics' skin care products are free of harsh paraben preservatives, synthetic fragrances, petroleum derivatives, artificial dyes, harsh sulfates, and phthalates or toluene. Juice Organics has a strict no animal testing policy and contains 100% vegetarian ingredients.

The not so upsides:
– It doesn't foam up and when using it on pre moistened skin, I have to wash twice to feel clean.
This is by far my favorite cleanser and I highly recommend it for all skin types.