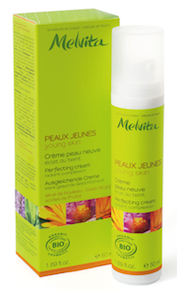 I went into Melvita to get my favorite cleanser and was given a sample of this Perfecting Cream. Because I love the whole Melvita story, I'm sorry to report that I don't care for it.
It's full of exfoliating, anti-acne ingredients, which is great for oily skin. I have combination skin that I keep hydrated for the sake of a healthy glow and minimal blackheads. The "healthy glow" can look like an oily shine by the end of the day so I'm guessing that's why the sales rep gave me this sample.
Because I have combination oily/dry/sensitive skin, when I use moisturizers with exfoliation acids, I break out. My skin is oily with small pores which means breakouts are really frustrating. I get red bumps with nothing in them, or no way for what's in them to get out and they take forever to heal (usually more than a week with topical acne treatment products). I do not like
this.
Here's how I use it:
– The sample came in a little flat packet so I emptied the whole thing into an empty moisturizer jar and have been using it nightly for about a week.
– After cleansing & toning, I apply a finger-ful to my whole face. That's basically just enough to spread it over my whole face just as it melts in.
The upsides:
– The company. See my last post for details. 🙂
– I love the scent. The product has a fresh, bright, herbaceous scent that makes it a joy to apply.
– It does have a mild mattefying quality, which is great for truly oily skin.
The not-so-upsides:
– It made me break out 🙁
– The texture is a little bit off-putting because it's made to be mattefying, it has minimal oils but is hydrating so it's a little bit, shall we say, slimy.
I definitely won't be purchasing this again and the only way I'd recommend it to someone is if they're truly oily (large pores, blotting papers needed in the afternoon, oil on the skin all the time) and then it would be as a basic night cream.