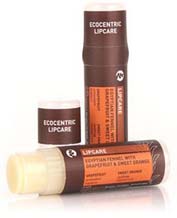 Pangea Organics has an Egyptian Fennel w/ Grapefruit & Sweet Orange Lip Balm that is my friend Eliza's favorite product.
The caveat here is that I've never tried this product myself, but I do trust Miss Eliza's taste and you know how much I love lip stuff.
Here's how she uses it:
– She just loves it and wears it whenever she feels like having silky smooth lips.
– When her lips are chapped or irritated it is soothing and healing.

The upsides:
– "There's something about it that's different from any other lip balm I've ever used. It feels like silk" is what she said when I pressed her to give me her upsides.
– It smells amazing.
– It's a larger sized balm than most, which makes it last longer as well as cover more easily.
– There is no addiction with this balm – some days she doesn't even reach for it as her lips feel great without it.

The Packaging
– The box that many of their products come in, according to Caitlin Dover over at Print Magazine, is super eco-friendly:
Not only are the boxes for their soaps and gift sets completely biodegradable—you can actually plant one, and grow a tree! Colorado Blue Spruce Seeds are embedded in each box.
[UPDATE: They've updated their ABOUT US page with different, but similar promises and commitments. Below is what was on their site when I first wrote this post]
We only want to make things that make things better. Which is why we promise to always be true to the people our products are made for – you. And to the place our products come from – the earth. Our bodycare is as honest as it is organic. Meaning, everything IN our products will always be listed ON them so you know exactly what you're purchasing and putting on your body. That said, you will absolutely never find any questionable ingredients in our products. No petrochemicals or parabens, GMOs or other synthetic or harmful ingredients.
The not-so-upsides:
The Price
– It's $12 per tube – which is ridiculous for a regular lip balm, for sure. But, if that's the only negative about it, I'd say go out and get some right now. I'm going to head to Foxglove over on 24th St. in San Francisco (between Florida & Bryant), to get one for myself (if Eliza doesn't hook me up first!) but if you're not in SF, you can order it right from their website.