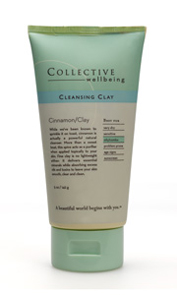 I got Collective Wellbeing's Cinnamon Purifying Clay Cleanser because I wanted to try something new and found the title and description quite intriguing. The very first time I used it, however, I was disappointed. This is less a cleanser and more a masque.
I wanted a cleanser.
Once I got over that disappointment, I set about finding it's strong suits and discovered that it's excellent as a masque.

Here's how I use it:
At night I wash my face with whatever cleanser I'm testing at the time and then apply this as a masque for a few minutes, until a thin coat is dry. After a few days of doing this, my skin is super soft and clear.