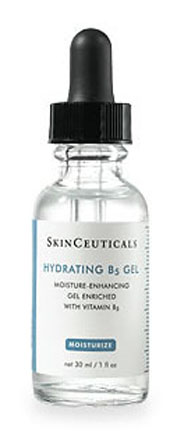 SkinCeuticals does a great job with serums. Their Hydrating B5 Gel is a standout. It offers the skin the water part of the water/oil mix necessary for healthy skin. That's not to say that it's just expensive water – the base ingredient is Hyaluronic Acid, which holds 1,000 times it's own weight in water and is naturally occurring in our skin and other areas of the body.
Here's how I use it:
– After cleansing, toning (if you do – optional) & applying Vitamin C serum (highly recommended if you don't already), apply 1-2 drops to your whole face, including eyes.
– If you are dry & need additional moisture than your sunscreen offers, apply your moisturizer then your sunscreen. I use sunscreen as my moisturizer often so as to save a step.
The upsides:
The Ingredients
– There is no fragrance or color added and the list is pretty short. (unfortunately, I can't confirm what's ACTUALLY on that list because they don't publish the ingredients anywhere but on the box, which is long gone)