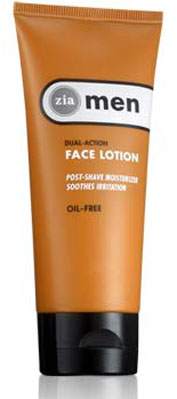 Last month I told you about this product and mentioned that we got it along with the DualAction Face Lotion.
I said I was going to continue the test of this cleanser by switching his lotion to see if that helps, and sure enough, he's no longer breaking out now that he's stopped using this product. Makes me a little sad because I like a few other Zia products.
Here's how he used it:
– With his face still wet from washing, he'd apply just a smidgen all over his face.
The upsides:
– It's ingredients are relatively natural.
– It smells good – essential oils of sandalwood and ylang ylang, and a few others make a lovely scent that's gender neutral.
– It's very light – when applied, it soaks in quickly and well.