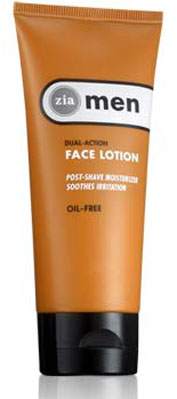 Last month I told you about this product and mentioned that we got it along with the DualAction Face Lotion.
I said I was going to continue the test of this cleanser by switching his lotion to see if that helps, and sure enough, he's no longer breaking out now that he's stopped using this product. Makes me a little sad because I like a few other Zia products.
Here's how he used it:
– With his face still wet from washing, he'd apply just a smidgen all over his face.
The upsides:
– It's ingredients are relatively natural.
– It smells good – essential oils of sandalwood and ylang ylang, and a few others make a lovely scent that's gender neutral.
– It's very light – when applied, it soaks in quickly and well.
– "Dual Action" – I like products that multitask:
Dual-action face lotion does double duty to protect your skin. Oil-free hydrators soothe while botanicals & vitamins combat razor burn and environmental damage.
The not-so-upsides:
– Even tho it's light and soaks in well, it still leaves a slight residue. Yes, residue that's ever so slightly sticky. It's also rather tingly – which seems odd for something that's supposed to be soothing.
– I'm not sure why, but I'm pretty sure this made my man break out a little bit. And, for someone who doesn't really break out much, that's not acceptable so it goes into the "not my favorite" tag category.
If you're a man looking for a soothing aftershave balm and your skin is normal or dry-ish, you might try this double duty lotion.